Youth Players of the Month for July 2023
---
---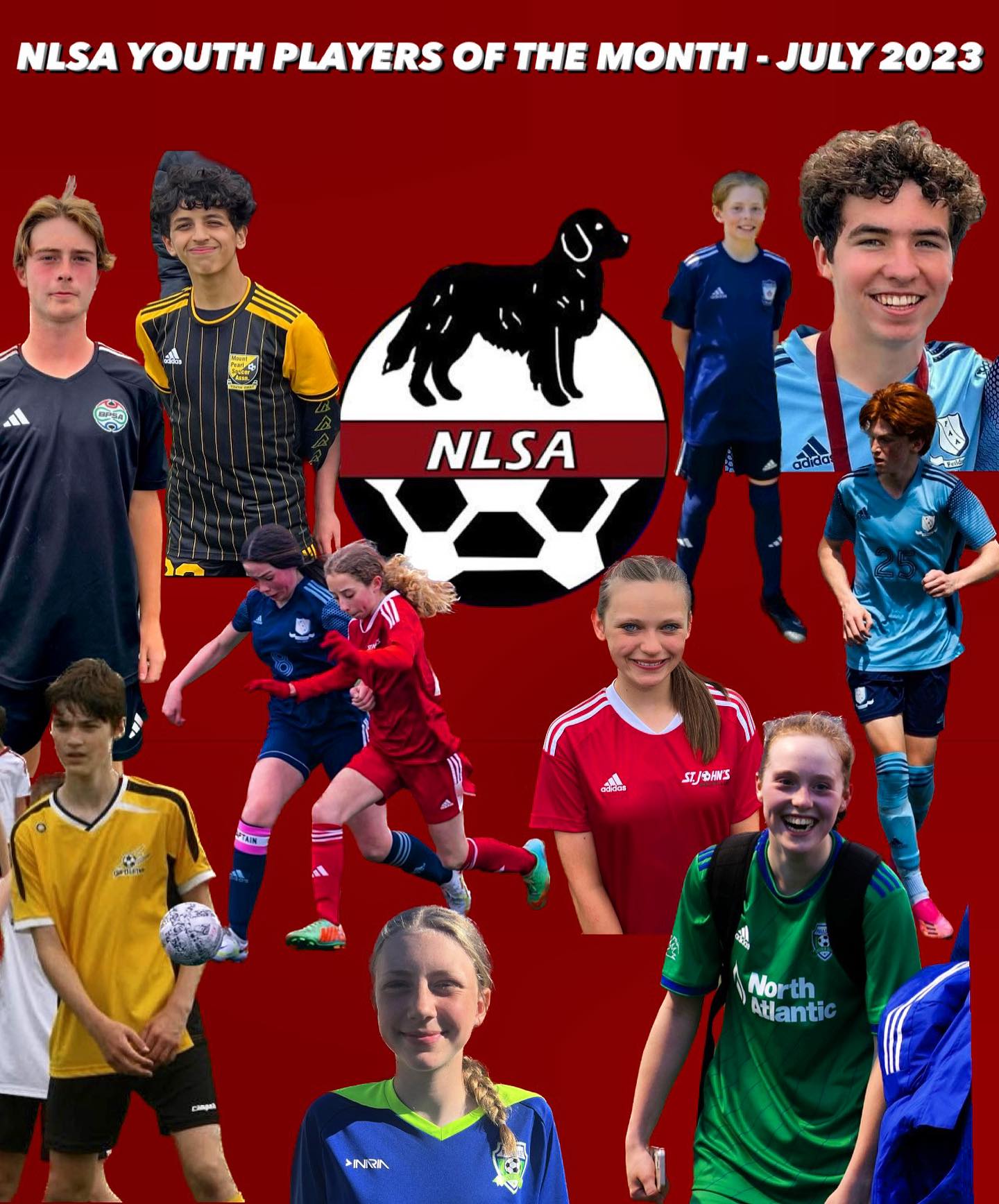 ---
We're pleased to announce our Youth Players of the Month for July 2023
BU12, Lucas Giles, CBS
Lucas Giles of CBS has shown incredible growth this year. He loves the game of soccer and loves the teamwork displayed by his team!
GU12 Ella Smyth, MPSA
Ella Smyth plays with the MPSA girls U12 PYL team and is also a member of the NLSA U12 Provincial Program. On the field, Ella's focus has always been toward the defensive side of the game and embraces the challenge at the Centre Back position of trying to defend against many talented players in a very competitive U12 division. Ella is a true teammate and coachable player who works hard every game and practice to help the team be successful. Her play this season has been rewarded with call ups up the MPSA Girls U13 PYL team. Ella also had an exciting finish to July, helping her MPSA team to a gold medal at the Paradise Sunsplash tournament in a thrilling battle against a strong CBS team.
BU13, Andrew Bartlett, CBN Lightning
As a remarkable leader on the team, Andrew's unwavering positivity and consistent commitment have been invaluable, especially during a challenging season. Andrew's determination shines through as he gives his all in every match, setting an inspiring example for his teammates. In addition to his exceptional leadership, his on-field performance is equally impressive, as he managed to find the back of the net twice in July. His dedication, resilience, and scoring prowess make Andrew a standout player and a true asset to the team.
GU13 Sarah Halliday, SJSC
In July, the SJS GU13 PYL team claimed gold at the SunSplash tournament going undefeated. Sarah was a key component of the team's success. Sarah is a gritty full-back who is able to disrupt and shut down her opponents consistently. She also looks to join the attack and uses her quickness to create scoring opportunities for herself and her teammates. Sarah was awarded "Most Spirited" at the Sunsplash tournament following her performance and positive attitude. Sarah was also a member of the GU13 provincial team that travelled to Montreal in July.
GU15 T1 Jorja Rose PYSA
A dynamic wingback, Jorja had a standout month in July at both ends of the pitch. Her speed and endurance up and down the left wing allows her to be involved both in the attack and defense. She is able to use both feet with ease, which gives her options on the ball and she has been a constant threat getting herself in good positions to put in crosses and shots on target. Jorja's technical ability is one of the best in the league, which makes her very composed and comfortable on the ball. She can be described as consistent, reliable and hardworking, many traits that likely earned her this recognition in July.
GU15 Tier 2 Alexia Bishop, SJSC
Alexia has been an outstanding contributor to her team in all areas of the field this season. Her work ethic and determination has led her to playing 80 minutes a game, between the positions of Center Midfield and Center Back. She has also contributed by playing other positions as well, including Keeper, when her team needed her the most.
Although a quiet leader at practice, she always motivates her teammates through her hard work and maximum drive during soccer activities. During games, she turns on a switch to command and communicate instructions with her teammates, encouraging them to perform, and bringing out the best in them. Her commitment to her own game to evolve and improve as a player is incredible and how she brings out the best in her teammates is something that any team would desire from a player. She has Captained the team on many occasions as shut down defender but also leads the team in scoring, highlighting the efforts she has put in all season long.
BU15 T1, Rowan Antle, Feildians
Always a defensive force in the midfield, Rowan stepped up his offensive game this month with 3 goals for the FAA BU15s. He combines a strong soccer IQ with precision passing, to break down the opposing defensive line and create opportunities for his teammates. Rowan is determined to win his battles, and in true Feildian fashion, often accomplishes this with a well-timed slide tackle. Rowan is a leader who is dedicated to strategizing with his team to bring success to the Double Blues.Bu15T2
BU15 T2 Ahmed Mohamed, MPSA
Ahmed has had a great presence on the pitch this month with a total of 7 goals now which includes a hat trick! More importantly Ahmed is a great team leader on the field playing until the 80th minute of each game with immense passion. Ahmed rallies his teammates and enjoys the team camaraderie as much as he does the sport itself.
GU17, Lauren Ash from Paradise Soccer Club (PSC)
Lauren is a member of the PSC GU17 team, as well as the NLSA GU16 team. Scoring 8 goals in 5 games, with two hattricks coming away in St. Lawrence with wins of 6-0 and 4-0 against BPSA, Lauren has taken advantage of a chance of being one of the league's primary goal threats. She has not only taken a leadership role on the field but has also taken one off the field where she has elevated the intensity of practices and let her midfielders and defenders know that there is no quit and the sound of her bearing down on defenders is something that has made our own fullbacks better.
BU17 T1, Andy Knight, Feildians
Leading from the front line, Andy has captained Feildian Athletics Association Boys Under 17 Tier 1 in 2023. Tallying 8 goals in 13 games played, and pitching in with numerous assists throughout the campaign, Andy brings a calm demeanor with a killer touch to the pitch. Coming from a family of Feildians goal scorers, Andy proudly represents the Double Blues and Newfoundland and Labrador at age level.
BU17 T2 Noah Ryan, BPSA
Noah Ryan of BPSA had another strong showing in July month with nine goals. As of the end of the month, Noah topped the league in scoring with 13 goals.